Please note that St Chad's Church Farndon is not responsible for the burial plots in the parish burial ground. It is Farndon Parish Council and not St Chad's who run the site. Please direct any comments or enquiries to Farndon Parish Council
Thank you and God bless





The Church is open each day Mondays to Saturdays from 9.00am to 4pm and on Sundays is open only at the times of services - please do visit us
Our vision for the future of our Church community
Value and welcome all people, seek to encourage new members and therefore increase in worship and fellowship
Continue to provide and develop our services to the wider village community
Encourage a wider sense of belonging to our Church in the village community
Help growing families by providing an environment where children and young people can grow in their journey of faith and play their part in the life of our Church
Develop the potential of our Church building
Deepen the prayer and spiritual life of our Church community
†

Next Messy Church Sunday 3rd June at 4.00pm
Messy Church is held on the first Sunday of the month at 4.00pm at St Chad's Church. Come along and join our growing congregation - this is a new and exciting form of worship. Messy Church is a fun based family service for people of all ages. Each service includes a number of craft activities, songs, a story and some prayers, all based on the theme for the day. We start with coffee, tea or juice with biscuits and finish with a shared buffet-style tea at 5.00 - 5.30pm

†




Farndon Christmas Tree Festival made a successful return for the third year in December 2017 - click here for details

†




The Big Church Day Out draws together tens of thousands of Christians from all over the UK and Europe to worship and celebrate all that is good. Itís a one-of-a-kind expression of church unity thatís as vibrant and varied as its wonderful guests.
Whatever your age, denomination or musical taste, you are welcome to join us for two days of discovery and enjoyment youíll never forget. We will be camping together in a Diocese Ďspaceí especially allocated for us.
The Big Church Day Out is like one huge playground, bursting with activities and fun for all ages. From the Big Church Kids tent and fun-filled fÍte to the relaxing Tea Tent nestled in the beautiful gardens, youíre sure to find your favorite spot and make memories that will last a lifetime. The Big Church Day Out is a chance to discover world-class music, mouth-watering food, relaxing cafes, family activities, and dancing crowds.
†

Click here for details on the Chester Diocese website and for onward link to Big Church Day Out website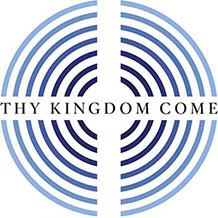 Thy Kingdom Come is a global prayer movement which the Archbishop of Canterbury is inviting people around the world to join. He is calling on Christians to pray that people might know Jesus Christ during a focused time between Ascension and Pentecost from 10th - 20th May 2018. Itís not complicated Ė the Archbishopís invitation is simply asking people to pray in whatever way they want, with whoever they want and wherever they can, that others might know Jesus Christ.
We hope that:
People will commit to pray with Godís world-wide family - as a church, individually or as a family
Churches will hold prayer events, such as 24-7 prayer, prayer stations and prayer walks, across the UK and in other parts of the world
People will be transformed through prayer by the Holy Spirit, finding new confidence to be witnesses for Jesus Christ
Pledge2Pray
To join in with the global wave of prayer, why not Pledge to Pray? You can pledge through the Thy Kingdom Come website.
Resources: to help churches and individuals join in the global wave of prayer, we have gathered a page of resources.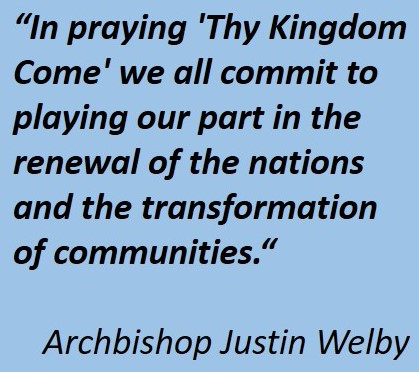 Diocese of Chester Visitors
Counter reset to zero February 21st, 2010




†